Canoe Color and Materials Options
Options overview:
Choose a Kevlar finish for the best strength and weight.  Natural yellow.
Choose a Carbon Fiber or hybrid carbon fiber for the best appearance.  All Black, or Blended Black
Choose Colored Kevlar for a unique rich appearance.  Red or Blue
Choose Epoxy Color for bright, solid colors.  Various Colors.  
Natural Kevlar details:
Color: Yellow  
Appearance:   Yellow, and slightly translucent in bright light.  May become darker in color over time.  
Notes:  Lightweight and strong.  There is no side seam.  This is the color of most lightweight canoes.  
Carbon Fiber details:
Color: Black
Appearance: Beautiful– sure to be the envy of other paddlers.  All black and glints in the light. Can almost appear to be wet or moving when the angle of the light changes.
Notes: Carbon fiber finish layer over the Kevlar canoe hull.  The carbon fiber I use shows a beautiful diagonal weave pattern.  This enhances the reflective quality of the carbon fiber–very attractive.  There is no side seam.  Same weight and strength as all-kevlar canoe.
Hybrid Carbon Fiber with Color details:
Colors: Yellow, Red, Orange, Blue, Green
Appearance: Beautiful and unique.  The fabric is woven with black carbon fiber in one direction, and colored Kevlar in the other.  The appearance is of alternating diagonal lines of color and black.  Think of these as carbon fiber with a subtle hint of color… very beautiful and classy.   
Notes:  Because carbon fiber is so dark, the blue and especially the green fabrics have very subtle color, and show up best under bright sunlight.  There is a side seam (fabric overlap on sides of canoe).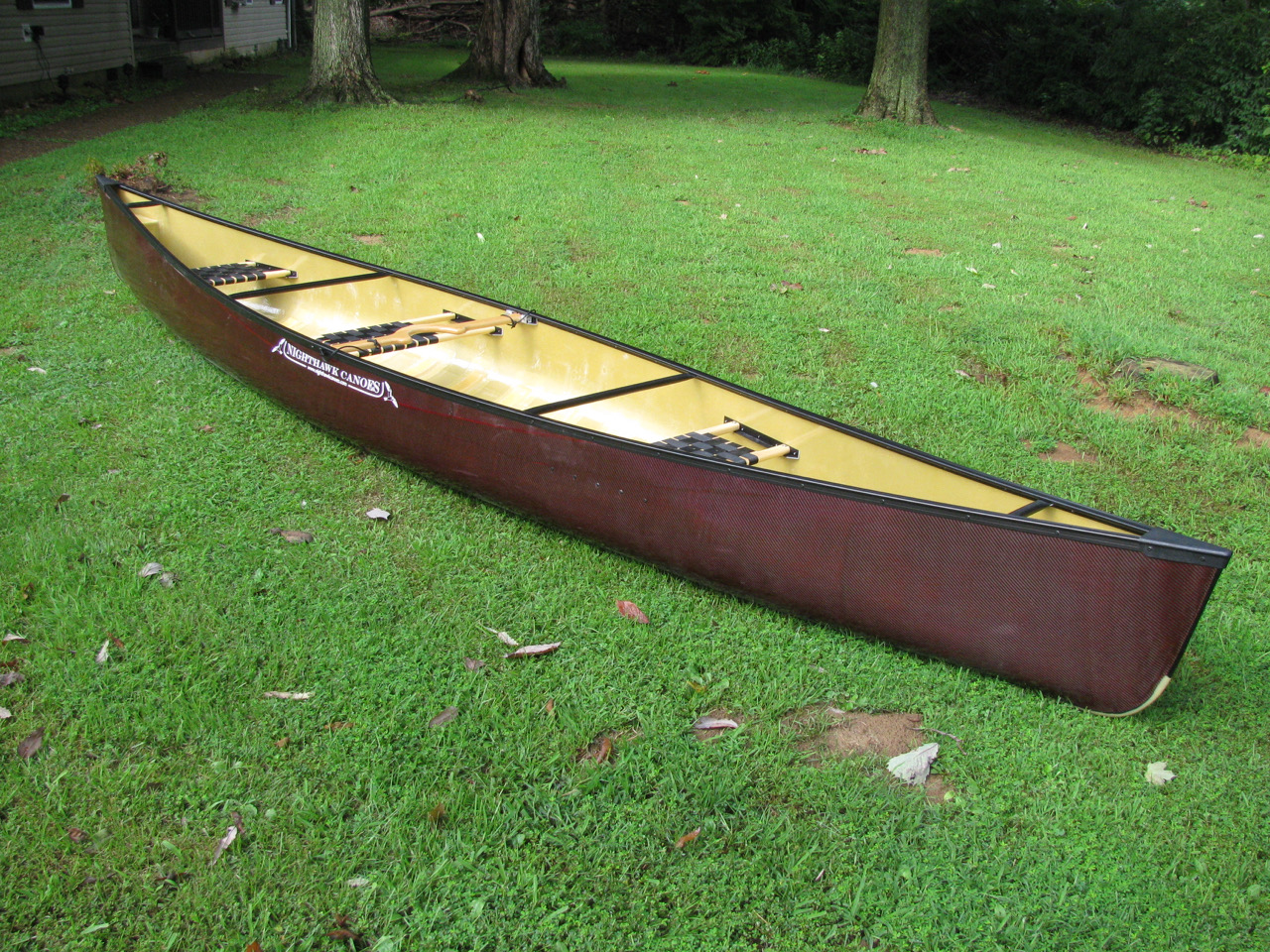 Colored Kevlar:
Colors: Red and Blue
Appearance: Deep, Rich color, with a classy diagonal textured appearance.
Notes: These colors are somewhat dark and show their best in bright sunlight.  This is the lightest-weight option for colors and the finish is beautiful and unique.  There is a side seam (fabric overlap on sides of canoe) 
Colors: White, Black, Keel Blue, Indigo Blue, Teal, Golden Yellow, Bright Yellow, Green, Brown, Grey, Red, Off-White, Custom.
Appearance: Beautiful, bright, solid color.  For this option, I add a pigment to the epoxy resin, to give color throughout the hull.
Notes:  As the name implies, the color is in the epoxy resin, rather than in the reinforcement material.  The colors are uniform and bright.  This option adds only 2-3 pounds to the canoe, making it far lighter than gel coat, and slightly increases overall strength.  Tough, lightweight and attractive.  Easy to repair.
This is a different process than gel coat, please note:
1) The color is visible on the inside of the canoe, along with the inner yellow kelvar-colored reinforcements.
2) The colored finish is nearly, but not entirely opaque.
Looks great with either silver or black trim, so this upgrade is more economical than carbon fiber as well.
Metalic Fiberglass:
This is a woven fiberglass fabric, treated with a special metallic coating.  The results are brightly colored, reflective, textured, and almost look like a carbon-fiber pattern, but in colors.  Silver, Blue, and Purple are my favorite options here.    There is a side seam (overlap line on one side of canoe).   This option adds about 3 lbs to the finished canoe.
Reflective Carbon Fiber:
Subject to availability.  This is a standard carbon fiber fabric, with the addition of very bright metallic threads.  This gives the carbon a hint of color, with a bright flash of color under sunlight.  Colors are Red, Blue, Gold, Green, Purple, Silver.  Sometimes this treatment is available on hybrid kev/carbon fabrics as well.   Lightweight, less than 1 lb change in overall canoe weight.  There is a side seam (fabric overlap on one side of canoe.)
Other custom Finish:
There are often some one-off, limited run carbon fabrics, that I can use on your canoe.  I can't offer them as standard options, but if you want something like no other canoe, let me know and I may have additional options.