Nighthawk Canoes, Leo 17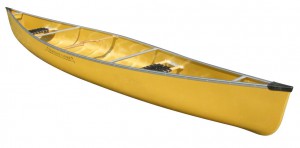 Length: 17'4″   Width: 35″   Weight: ~44 lbs.  Depth 14″   Bow Height 20″   Rocker: 1.25″   Shallow Arch Hull
The Leo 17 is the ideal 2-person touring canoe.  This is our most popular model, offering light weight, stability, and speed.  It has enough capacity to take two adults and lots of gear across the water.  Choose this canoe for a tandem design that works great for both light recreational paddling and for serious tripping.  Can be configured with two or three seats and a removable yoke, for an extra paddler, or for occasional solo paddling.  Max recommended load, 750 pounds.

Stock:  Two seats for tandem paddling
Solo Front thwart:Alternate thwart placement allows a paddler to face backwards from the front seat.  Makes balancing the canoe easier with an adult / kid paddler combination or for solo paddling.  Makes a little less room for gear in front of the yoke.
Three Seat:  I love this combination, and think it makes the most versatile canoe around.  An ideal tandem canoe, or bring a 3rd paddler, or solo paddle with a 2-blade paddle.  Works well with removable yoke option, or combo seat-yoke option.