Nighthawk offers a number of fixed and adjustable seat options
Webbed Seats, XL (standard): Ash Frame, super strong and comfy.
Notes: This is a simple, comfortable, extra large, and strong seat.    10" x 16″ seat area (larger than most other canoe seats).  The seat is made from an Ash wood frame with super comfy and breathable black webbing.  Double coated for superior weather resistance.  Can be paddled forwards or backwards depending on canoe set-up and balance.
Bucket Seat: Formed plastic seats
Notes:  These seats are relatively comfortable, and offer the advantage of being lighter weight than the webbed seats.  High-energy or aggressive paddlers may find this type of seat more secure, as it holds you in place better, and requires you to maintain a centered paddling position.
Lightweight Contour Seats:
Notes: A lightweight webbed seat with a curved seat area. A smaller, lightweight alternative to the standard webbed seats.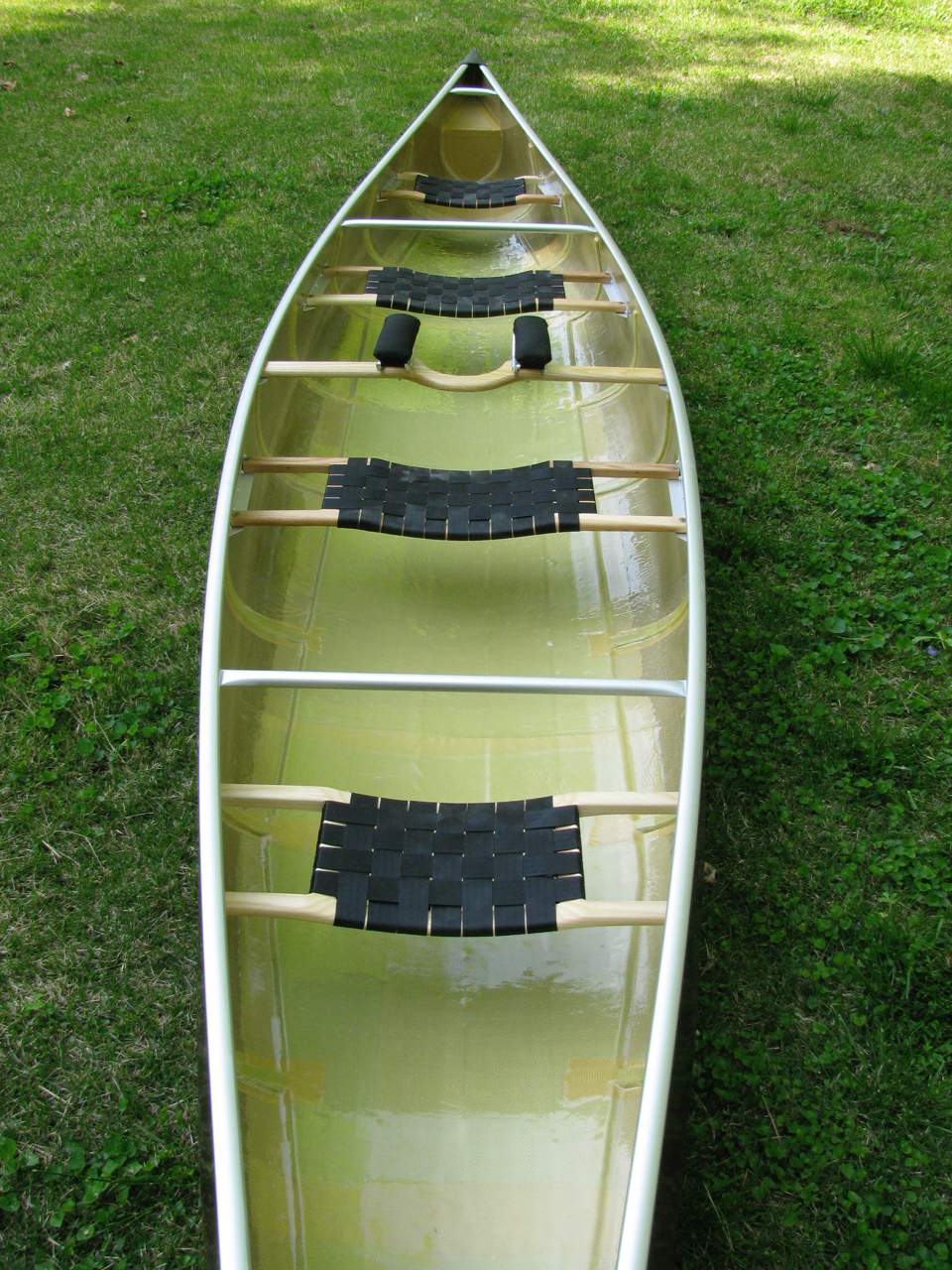 Level Seats (Standard):  Traditional seat placement.
Notes:  Simple and comfy, this is the seat position you are probably used to.

Tilted Seats (Option): A slight forward tilt to the seats, for better comfort and less lower back stress.
If there's one secret to making a canoe more comfy for hours of paddling it is the tilt seat option.  For this option, the back of the canoe seat is raised by about 1″ (I.e. leans your butt forwards).  This position dramatically reduces the strain on your lower back and helps you get more of the strength in your legs and back into your paddling stroke.  I couldn't believe how much I liked this set-up the first time I tried it.  (The tilt is generally accomplished by using the existing seat brackets, and it can be tried or reversed simply by unbolting and reinstalling the seat in the new position)
Low-mount Seats: This is an option that increases, sometimes dramatically increases, the stability of the canoe.  This is a very useful feature for larger paddlers in smaller canoes, especially if you do not intend to use the kneeling paddling position.  (I use this position in my personal Columba canoe.)  Like the tilt seat, it is a variation on how the seat is bolted to the existing bracket, and can be easily reversed by unbolting the seat, and can even be extended by using longer bolts and small spacers between the seat and bracket.
Sliding Seat:
Notes: This option makes it easier to adjust the balance and handling of the canoe.  Especially helpful if you will sometimes have a small and lightweight  bow paddler (like a kid) with a full sized stern paddler– and other times have more equal size paddlers.   The goal is simply to distribute the load of the canoe so it is even or slightly stern-heavy for the best performance.  Sliding the seat forward helps with balance, and places a smaller paddler in the narrower part of the canoe, where it is easier for them to paddle.
Extra Seat:
Notes:  Add a third (or fourth) seat for an extra passenger.  With extra seat(s) the Leo 17 can carry up to three adults, and the Pegasus can carry up to four adults, and the Cygnus can switch between tandem and solo-paddler use.  +3-4 lbs.
Removable Extra Seat:
Notes: This upgrade is a special mounting system for an extra seat.  The seat mounts securely, though it can be removed or replaced in less than a minute without any tools.  This is a handy feature if you generally are using the canoe with family and friends, but occasional want extra room for gear-intensive trips.
The mounting of the seat affects how the canoe balances at the yoke.  If you chose this option, the canoe will be balanced with the seat in, but will be a little more difficult to carry with the seat out. Chose a removable seat if you want the option to remove a seat, but will generally have it in.  If you will generally NOT have a third seat, but occasionally want the option, I encourage you to use a drop-in seat that clips to the gunwales.  +3-4 lbs.
Removable Yoke
Notes: The removable yoke is an extra hardware kit attached to the standard yoke that allows it to be securely installed or removed in less than a minute.  When using this feature in the Cygnus or Leo model canoes, the removable yoke allows a third seat to be placed in a more centered position, providing a much better solo paddling experience.   (I.e. the yoke installs for carrying, and removes for paddling.)
It requires no tools, and a cord is included that prevents loose hardware from getting separated or lost in the water.  The installed yoke is bolted through the gunwale.  When it is installed, it is as secure as a standard yoke, and it always reinstalls at the correct balance point.
The removable yoke can be fitted with yoke pads if you choose.
Drop-In Seat:
The drop-in seat is an accessory that allows you to temporarily carry an extra paddler in the Leo or Pegasus canoe.  For occasional use, I recommend the drop-in seat.  For more-regular use, I recommend ordering your canoe with an extra canoe seat installed, with or without the removable hardware option.
Combination Yoke and Center Seat:
This is another accessory option to allow you to temporarily carry an extra paddler in the Leo or Pegasus canoe.  It doubles as a very comfortable carrying yoke.
More options are available on our Accessories menu.